Quintana Roo is one of the most fascinating tourist destinations within the Riviera Maya, with a wide variety of archaeological sites, beaches, cenotes and magical towns, it's the perfect place to welcome the summer and spend unforgettable luxury vacations.
One of its many hidden treasures is Cobá, an ideal town to disconnect from the busy life and everyday stress. In our quest to offer you the best summer experiences, Aldea Cobá, an escape boutique experience, opens the doors to a paradise full of tranquility and comfort in its new bungalow premium.
1. The experience of staying in a Bungalow
Spending your vacations in a Bungalow is a totally unique experience, from the environment to the comforts it offers you, these wonderful rooms add a different feeling to your entire trip.
The first thing we can highlight about Bungalows is that they are designed for rest and relaxation, since they are usually found in isolated areas, surrounded by nature and far away from noise. This makes them the perfect hideaway to  experience a vacation full of privacy.
This type of accommodation is usually recommended to couples who aspire to have an escape and tranquility experience, or to families who are looking to enjoy an environment of  adventure in nature. Either way, starting your summer in the comfort of a Bungalow is always guaranteed to be a one-of-a-kind experience.
With the new bungalow premium you will now be able to meet the perfect complement to the boutique escape experience that you can live in Aldea Cobá.
2. What can you find in our Bungalow Premium?
Among the many wonders of Quintana Roo, the place par excellence that will allow you to enjoy this tropical paradise to another level is Aldea Cobá, boutique hotel hidden in the heart of the Mayan jungle.
Located in the town of Cobá, it offers a true connection with nature and culture, elements that are present from the walls of its rooms to its Sacbe paths and outdoor entertainment areas. With the purpose of making every moment of your visit unforgettable, Alda Cobá seeks to please you with the new bungalow premium where you can give your vacation a touch of luxury and exclusivity.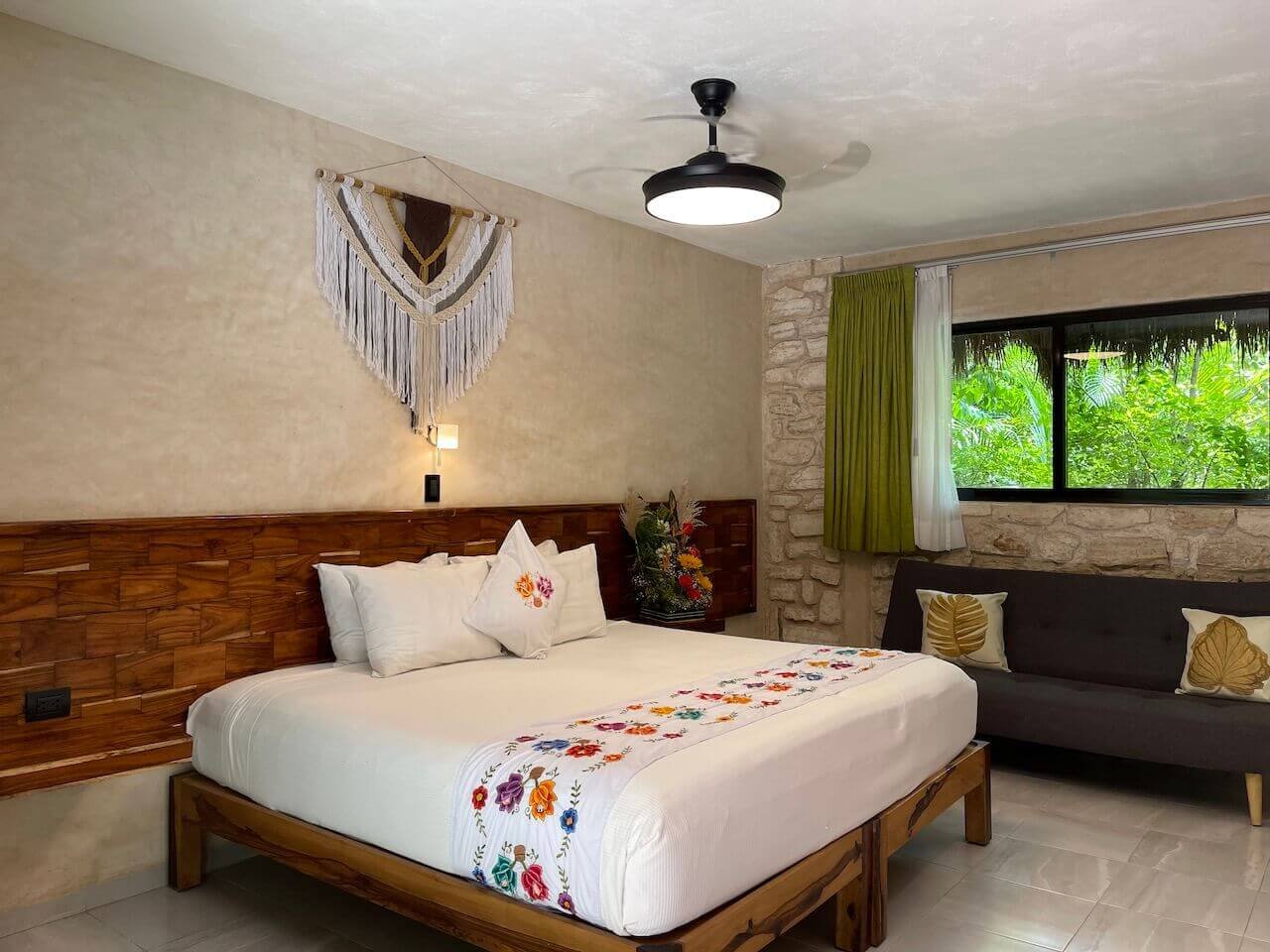 This new category has more space and new areas designed for your comfort, inside you can find; the room much more spacious than before, with a large sliding door that reveals a spectacular landscape of the Sacbe, a bathroom with a shower and separate toilet  and a large private terrace with several resting places.
In addition to having expanded its dimensions, new amenities have also been added, such as a sofa bed for more comfort, a smart fan that will keep you cool all day, a safe to store your items of value, a desk, a minibar with snacks included during all the days of your stay, this just to mention a few.
But if what you are looking for is to relax after a long day of activities in Cobá, now you can do it in the new private Jacuzzi, where you can enjoy a hydromassage session with refreshing cenote water, ecological bubbles and aromatic organic flowers whenever you want.
3. Comfort zones, family activities and much more
If you've already explored all the amenities inside the premium Bungalow, don't worry, whether you are looking for activities that feed your desire for adventure or experiences that help you connect your senses with nature, inside and outside the hotel there are endless of perfect activities that will keep you entertained all day.
If you are a lover of mystery, you can take advantage of your luxury vacations and take a guided tour to the Sanctuary of Uses and Customs in Sahcab Mucuy, where you will learn from the hand of a shaman about Mayan traditions and customs. And if you wish you can participate in the preservation of these.
Back at the hotel you can immerse yourself in an atmosphere of harmony and tranquility with a yoga session or enjoy a therapeutic massage.
4. How and when can you visit us?
There is no better time to visit Cobá than in the summer, during this season you will find the perfect weather and spectacular scenery.
To live the best experience, Aldea Cobá, an escape boutique experience has the best rooms in Cobá for you. Very soon you will be able to enjoy your luxury vacations in the bungalow premium and we know that it will be something you do not want to miss, that is why we recommend you reserve your place in advance.
How can you do it? You can contact us through our direct line 998 402 1130 or through our website.
Now is the time to live the trip of your dreams, we are waiting for you!
If you like this post don't forget to share it with your friends.