Tulum is undoubtedly one of the most lovely destinations in the Mexican Caribbean, and you won't let us lie, among its greatest jewels are its magnificent cenotes. But if you are looking for the most special of them all, then you must visit the Zacil Ha cenote; a mandatory stop on your tour.
If you don't know it yet and don't want to miss out on a great experience, don't worry, we have created a guide with everything you need to know about this magical destination, so you'll be ready when the adventure arrives!
Find out all about the Zacil Ha cenote
1. Where is Zacil Ha Cenote?
This mystical cenote is located in the state of Quintana Roo, at kilometer 8 of the road between Coba and Tulum, about 30 and 15 minutes respectively from each destination. Next to it, you can also find the Cenote Car wash, making it the perfect place to visit without breaking your itinerary.
To find out how to get to Zacil ha cenote, check out point 6
2. What is Zacil Ha Cenote like?
The Zacil Ha cenote is one of the most popular attractions in Tulum and its surroundings, since in addition to the magnificent experience of refreshing yourself in its crystal clear waters and turquoise tones, it brings with it the opportunity to appreciate the beautiful blue sky and enjoy the warm rays of the sun, as it is an open cenote!
Also, another of its advantages is that unlike other cenotes in the area, this one is shallow, reaching a depth of approximately 3 meters. However, that doesn't mean there is no fun to be found here, since it is connected to several neighboring cenotes (such as the Car Wash) you can dive and explore the caverns that connect them.
And if you venture to dive in them, sooner or later you will reach the chamber known as "the tears", which stands out for its amazing scenery full of stalactites that simulate water drops. However, it is recommended that you have some diving experience to get there.
3. Zacil Ha Cenote Attractions
If you thought that cenotes were only for swimming and cooling off, then you are wrong, because the Zacil Ha cenote offers much more. It has several facilities available, from the most basic ones such as bathrooms and dressing rooms, to a small restaurant and rustic cabins to rest.
As if that were not enough, besides the natural cenote you can also enjoy two artificial pools, which makes it ideal for visiting with small children, and don't worry about the people, the space will be more than enough for them to swim and be at ease.
Now, if you are looking for something more exciting, you can always snorkel in the cenote, dive from its various platforms or even fly on the zip line. What is certain is that you will not get bored!
4. How much is the entrance fee to Zacil Ha Cenote?
Currently, the entrance fee to enjoy all the amenities offered by Zacil Ha Cenote is $100 MXN per person if you are from Quintana Roo. While for national visitors the cost is $150 MXN and for foreigners $200 MXN.
Although it may not be one of the cheapest cenotes in the area, it is a very affordable price for all the facilities and services already mentioned.
While the opening hours of Zacil ha cenote may vary during the high season and open a little earlier, you can generally enjoy its beautiful turquoise waters from Monday to Sunday from 10:00 am to 6:00 pm.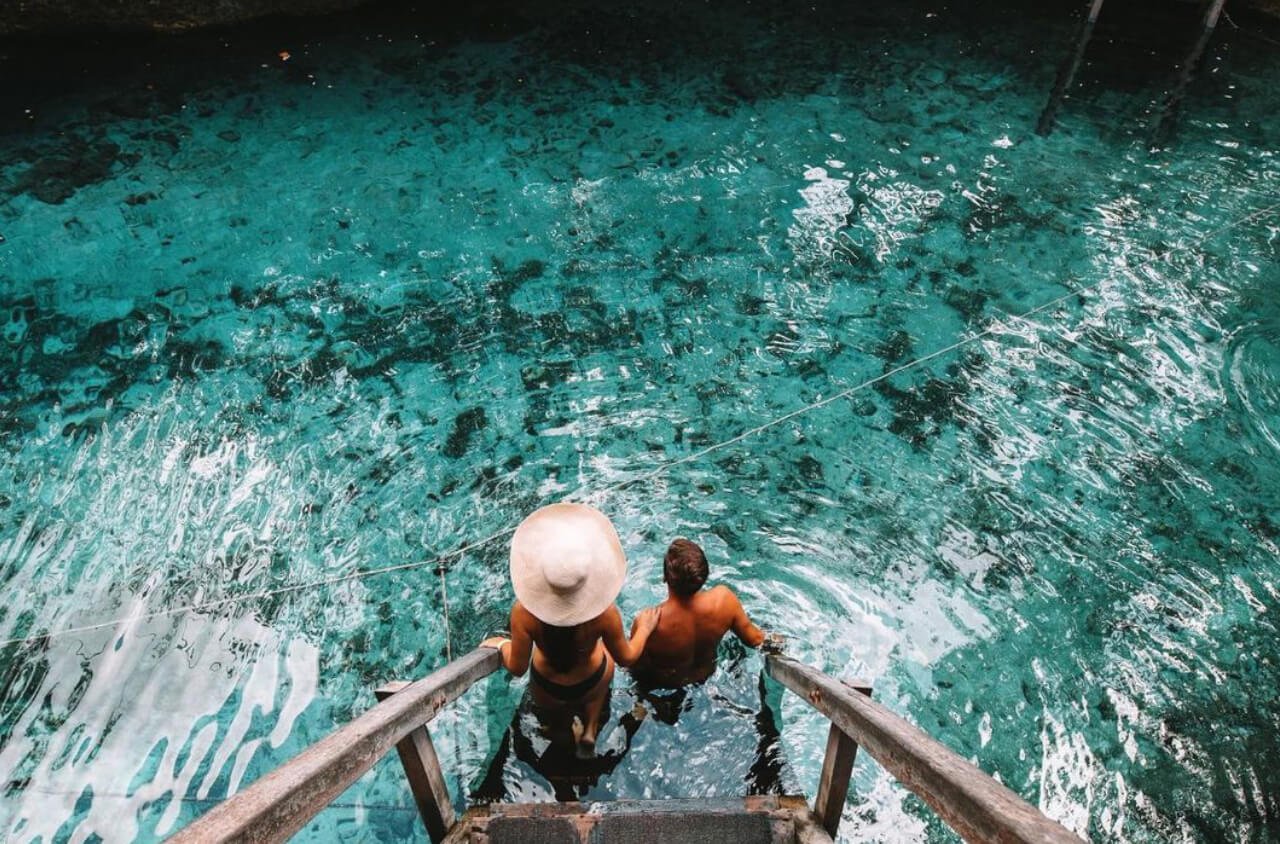 Being the most recommended hours to visit it or very early in the morning or just before closing, as these are the best times to avoid the conglomerations of people that are assembled by its popularity.
6. How to get to Zacil Ha Cenote?
Once in the town of Tulum there are several ways to get to Zacil Ha cenote, however, the most recommended are by car or cab or even bicycle. Whatever the case may be, the route you should take is federal highway 109, which you can learn more about by clicking here.
On the other hand, if you are in Cobá, the best thing to do is to go to the cenote in your own or rented car, or take a cab. Here you will also be taking Federal Highway 109, but in the opposite direction, just as shown in this map.
7. Recommendations for visiting the cenotes of Tulum
In order for you to fully enjoy your escape in the cenotes of Tulum, there are several points to take into account, but the most important are the following.
Wear a comfortable outfit

, that includes both clothes and shoes, because to access some cenotes you will have to go through rocky and slippery areas, a pair of tennis shoes or even water shoes will be a great help!
Before entering the cenotes, if available,

use the showers

to rinse off all chemicals that may harm the environment, such as those found in repellents or sunscreen.
Remember to

bring a change of clothe

s for after your adventure in the majestic waters of the cenotes, a backpack for your belongings and a plastic bag to store any wet items.
Also, since these are experiences that take place in areas surrounded by nature,

it is important that you have cash.

This is in case you wish to do any extra cost activities or buy any souvenirs.
Always stay safe

, if your skills in the water are not so good, use the life jackets offered at the facilities at all times.
Keep the area free of garbage, if you visit the cenotes of Coba and Tulum,

respect these natural areas

and help to keep the facilities in good condition. This way, more people will be able to continue enjoying them.
Now that you know more about what to expect from Zacil ha cenote, you are ready to start your adventure and tour this magnificent Mayan sanctuary like an expert. So if you are planning to visit Mexico or you are in the surroundings of Tulum, you can't miss this incredible place!
As an extra tip, if you want to tour the entire cenotes route, the best thing you can do to visit more than one cenote per day is to look for lodging in the town of Coba, so you can explore at your own pace and be close to countless natural beauties.
For this, your best option is Aldea Coba, Boutique Hotel in the Mayan jungle; where in addition to connecting with nature and exploring the nearby cenotes, you will have access to incredible experiences in the Mayan world. To start the escape of your dreams do not hesitate to contact our direct line 998 402 1130 or if you prefer check our website.
If you liked this article, don't forget to share it with your friends.