If there is something we look forward to every year, it is definitely the arrival of spring; a magical time after a long winter, when the sun shines brightly again. And although there are several ways to welcome this season, definitely the best of them is to visit Aldea Coba, located in the town of the same name.
If you're not sure about it, take a look at these 6 reasons why it's worth starting your spring break in Aldea Cobá.
Reasons to visit Aldea Cobá in springtime
1. The spectacular weather
Spring brings with it an incredibly weather, which is characterized by the return of warm days but without being overwhelming and with less chance of rain, a very important factor for you to enjoy it to the fullest!
Although you may think that most of the country shares these characteristics, in the town of Cobá spring is especially warm, tropical and full of life, as it is the time when all nature awakens.
Also, due to the fact that the weather is not as aggressive as in the summer, this is the perfect time to enjoy tourist activities, such as jungle tours, exploring cenotes, kayaking and of course visiting its fantastic ruins.
Just like the weather, one of our favorite qualities of spring is that it's the time when all nature comes back to life. During this season, flowers are everywhere, on trees, bushes and even rocks. Their beauty is simply breathtaking.
And although the birds have been silent for quite some time, with spring they start singing again. The melodies they create are so beautiful that one could spend hours listening to them … Best of all, at Aldea Cobá this is something you can experience from the comfort of your room.
Perhaps one of the most spectacular phenomena of this season is the spring equinox, an astronomical event that usually takes place on March 21st and causes day and night to last the same length.
For the ancient Maya civilization, this event represented the arrival of a time of renewal, rebirth and growth, in other words, the beginning of a new cycle in which Cobá was flooded with energy.
In fact, the equinox was so crucial for the Mayans that they even designed buildings for this occasion, and today you can still find multiple stelae around the archaeological site of Cobá perfectly aligned with the sun, so that during the equinox the light shines on them. 
So if you want to start spring off on the right foot, this is a great way to do it!
In addition to receiving the spring equinox in the ruins of Cobá, as part of the commitment to preserve and share the traditions of the Mayan world, Aldea Cobá performs an annual blessing that seeks to celebrate this event.
According to the tradition, through the shaman Egilio (a true guide and descendant of Mayan generations), an authentic Mayan blessing is received as the ancient inhabitants of this land used to do and the energies of this new cycle are used to unite mind, body and soul in complete harmony, thus bringing together the best wishes for a new beginning!
The next Mayan blessing will take place on Tuesday, March 21, 2023, for more information about this spectacular event you can enter our website or stay informed through our social networks.
5. Discover a new gastronomic experience
Another great reason to visit Cobá in spring, is that during this season Aldea Cobá, an Escape Boutique Experience and Pischán restaurant, are holding a special event known as the "Dinner in the Dark", a new dining experience inspired by Earth Hour.
This is a symbolic gesture that takes place every year on the last Saturday of March and consists of disconnecting all electronic devices for an hour at night. An activity that seeks to protect the environment and create harmony between humans and nature.
Taking this noble gesture into account, Aldea Coba has created this Dinner in the Dark to amplify your senses; offering a tasting under the light of the stars with dishes carefully prepared to enhance the flavors and aromas of the Mayan world. Believe us, it will be an experience you won't regret!.
6. Start the cycle completely renewed
One of the greatest advantages of visiting Aldea Coba, is undoubtedly its escape experience, as it is located in the heart of the Mayan jungle you can take a break without interruptions and disconnect from the rest of the world.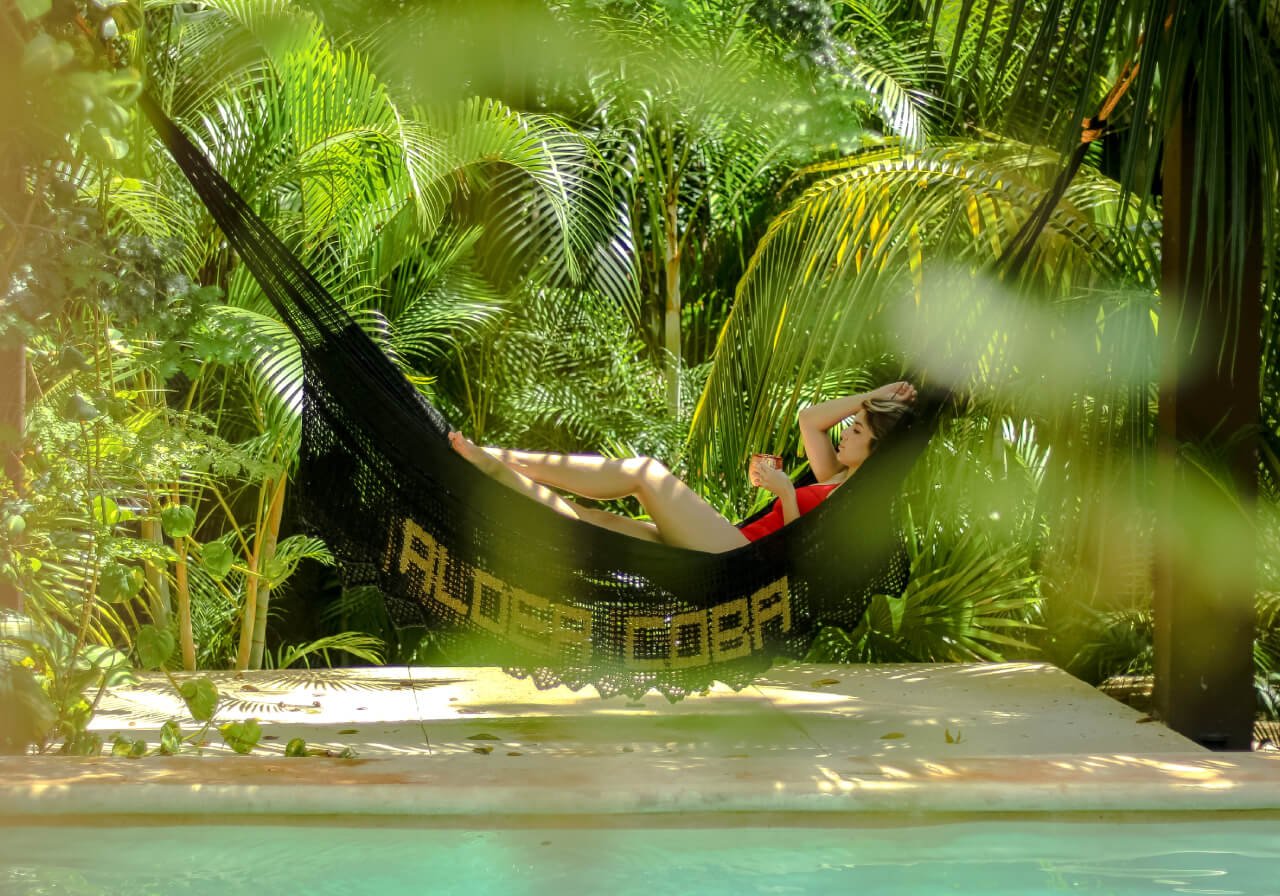 Even if it's just for a couple of days, from the first moment of your visit you can get away from the hustle and bustle of the city, escape from technology and find yourself. Of course, all while enjoying facilities full of privacy and exclusive experiences.
Not only will you have the opportunity to delve into the Mayan world with cultural experiences such as the Mayan blessing or a temazcal session, but you will also have at your disposal wellness activities such as massages and yoga classes.
Making it an escape that will help you come out of your spring break refreshed!
If this sounds like something you'd like to experience, don't hesitate to contact our hotline 998 402 1130 for personalized assistance, or if you prefer, check out our website. 
Aldea Coba, An Escape Boutique Experience, helps you plan the tour of your dreams by putting at your disposal all these experiences and many more. We look forward to seeing you!