Couples heading down the path of marriage often end up celebrating in the most traditional way; white dress, hundreds of guests and a big party. However, for those looking to have a more special bond, a Mayan wedding is one of the most meaningful ways to say "I do".
For this reason, many couples around the world travel to Mayan lands to be part of this ancient tradition. Which is no surprise, since there are many reasons to prefer a Mayan wedding to a "traditional" one.
And here are the main ones.
Reasons to have a Mayan Wedding
1. The experience is simply memorable
A Mayan wedding is an experience unlike anything you've ever seen or heard of, since it is a pre-Hispanic tradition, you will not only enjoy a trip to the past, but also the culture of this mystical civilization.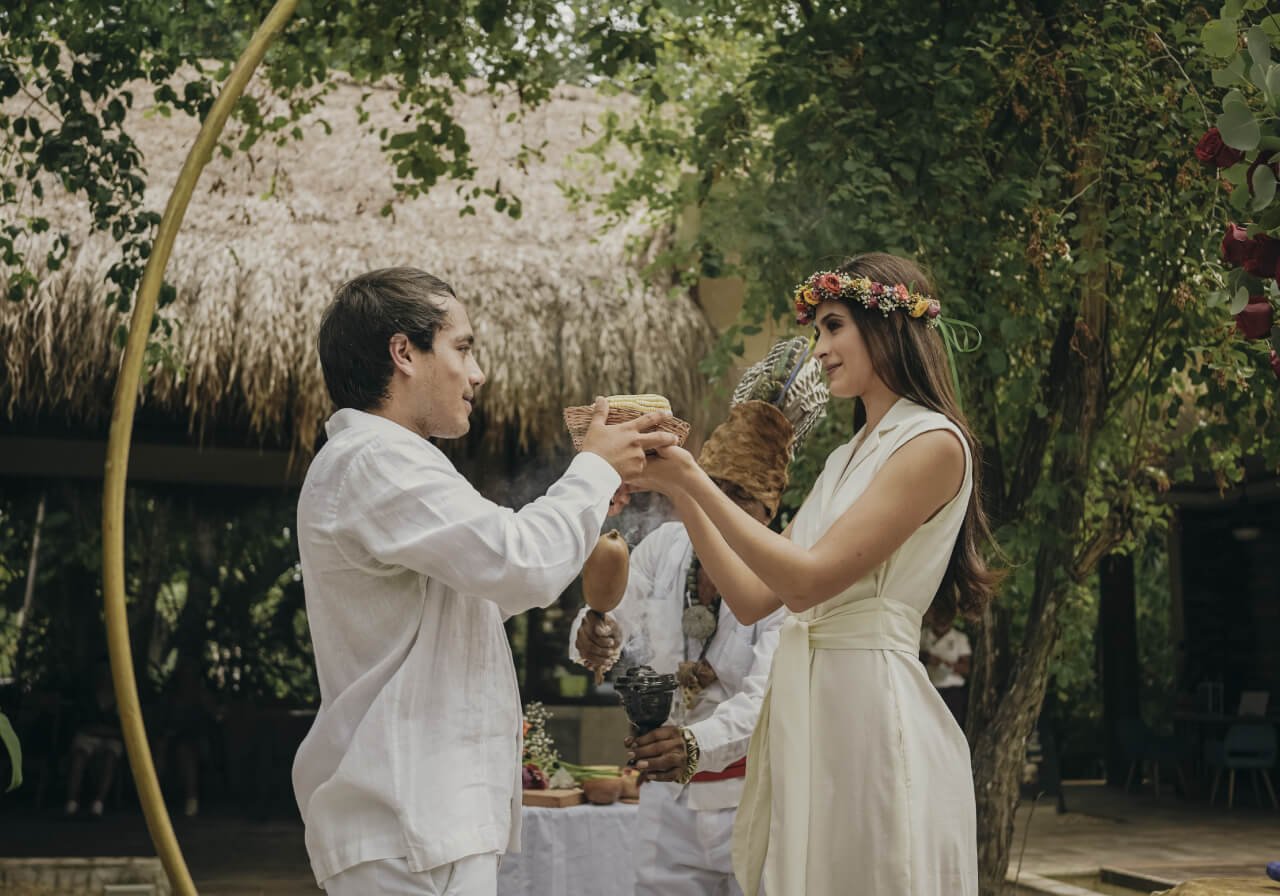 This is a much more meaningful ceremony full of symbolism, where both parties can create a deep connection and introduce themselves to the universe, it is a unique way to celebrate your love that will leave you with memories to last a lifetime!
2. It is much more special
Part of this great experience lies in the mysticism of the ritual and, of course, its meaning, since a wedding like this is not about officiating a relationship on paper, but about celebrating love, reinforcing the spiritual union and blessing the marriage.
From the elements present on the altar and decorations, to the blessings and prayers, every aspect of a Mayan wedding is filled with sacred energies to wish the bride and groom a harmonious union full of harmony and good feelings.
3. It's an original way to celebrate
Whether it's the symbolic rituals, the amazing natural beauty, or the deep spiritual connections, a Mayan wedding is one of the best options to leave the conventional aside and show off something unique to your guests. 
Believe us, in an event like this, everything is much more memorable. From the attire and the music, to the wedding banquet, but most of all the ceremony, as it is performed by a shaman prepared to seal the spiritual bond between the couple and guide them on a path full of prosperity.
4. You get to enjoy breathtaking settings
Another feature that helps to highlight the beauty of a Mayan wedding is its breathtaking scenery. Being a culture tied to the natural world, many of their ceremonies take place outdoors, surrounded by lush vegetation or next to incredible scenery. 
By having a Mayan wedding in the middle of nature, you will create a fascinating, romantic and serene atmosphere. Something very difficult to replicate in a reception hall, and that will surely leave a more lasting impression.
5. It is a more private event
Mayan weddings tend to be held in remote locations close to the culture, that's why it becomes a more intimate and personal celebration, where the focus is on the couple and their relationship rather than entertaining the crowd.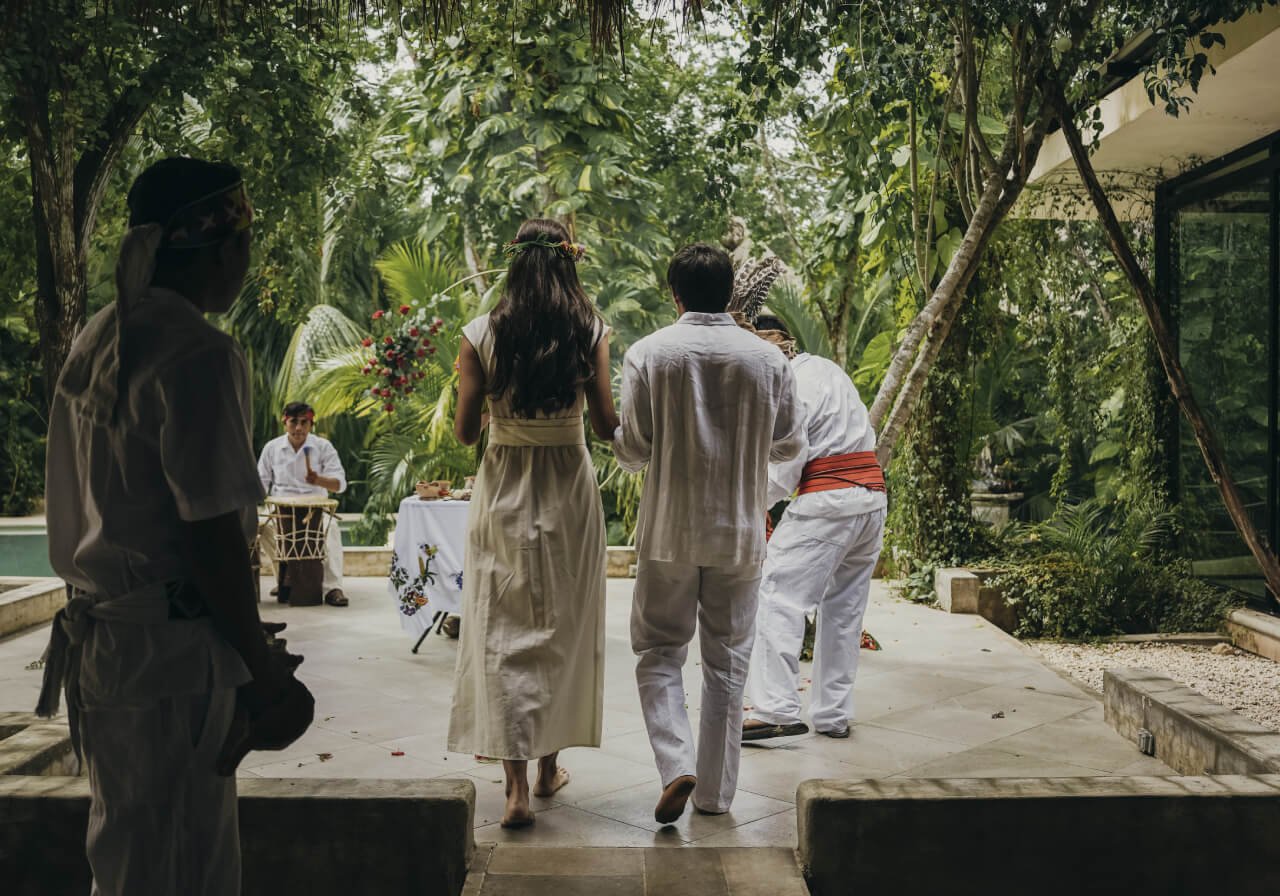 This creates a more relaxed and comfortable atmosphere, allowing couples to enjoy their special day without having to feel overwhelmed or pressured with a large-scale event. Plus, it's a great way to celebrate with the people who really matter.
6. You enjoy the best of both worlds
While Mayan ceremonies have great symbolic value, this doesn't mean that your wedding has to be one hundred percent traditional and culture-bound, as anyone can have a Mayan wedding and add a touch of personality to it. 
So if you have always dreamed of wearing an amazing white dress, a great dance floor and a lovely banquet, even if you opt for a Mayan wedding you can make it happen, and create the perfect fusion between the past and the present.
So you can live the best of both worlds!
¿Dónde celebrar una boda maya?
Due to the character of this event and its deep meaning, it is common for this ritual to be celebrated in places where the Mayan culture still prevails, such as Quintana Roo. Where Hotel Aldea Coba is located, one of the favorite places to celebrate destination weddings.
As it is full of an ancestral atmosphere and surrounded by several tourist sites to explore, which will surely complement your celebration.
So if you are looking to start this new stage with a Mayan wedding, we invite you to receive personalized assistance through our direct line 998 342 0198, or if you prefer, consulting through our website.