There is nothing like a romantic getaway to celebrate the holidays, commemorate an anniversary or a honeymoon, whatever the occasion, if you are looking for a moment of romance and privacy Coba is the destination of your dreams!
Being surrounded by vast vegetation and filled with tranquility, this charming village has become a paradise for couples, but for those who want to discover it uniquely, you must visit Aldea Coba; full of lovely villas and cozy bungalows.
Hay muchas razones por las que este lugar será tu favorito, pero aquí te dejamos 3 que te ayudarán a descubrir que hace de este hotel el sitio perfecto para tu escape romántico.
Best rooms for a romantic getaway
1. What makes Aldea Coba so special?
Undoubtedly one of the greatest attributes that Aldea Coba has is the atmosphere it offers, it has everything you need for a trip full of romance and disconnection, as it is located in the heart of the Mayan jungle, you will be away from the bustle of the city and accompanied by the harmonious sounds of wildlife.
Here you will start your mornings with the sound of birds and a beautiful view. Also, to offer you only the best experiences for two, the hotel always prioritizes the privacy and comfort of the guest, having individual corridors for each room and being at your disposal to plan surprise events in its gourmet restaurant.
Being a boutique hotel, it is the perfect place for couples who want privacy and comfort without losing that touch of luxury. Despite having only 6 rooms, it offers spacious areas with modern decoration and all the necessary amenities to spend a carefree vacation with your partner.
2. Rooms full of charm and beauty
As mentioned in the previous paragraph, Aldea Coba has 6 romantic and family style rooms, designed for you to live relaxing experiences and make your stay as pleasant as possible.
From their walls made of chukum (a material of Mayan origin), to their macramé decorations and hand-embroidered bedding, they are created to transport you to another world. Either one will give you the rest you deserve, but there are two categories made for romance.
This is a new category at the hotel and unlike the others available, it is a unique room that stands out with luxury amenities, exclusive spaces and private sitting areas.
Inside, you and your partner can enjoy a room with a large sliding door that gives an incredible view of the Mayan jungle, a luxury bathroom with integrated shower and an outdoor terrace equipped with a breakfast table, lounge chairs and chairs to relax while you relax with a glass of wine.
But if we have to choose the best feature of the Premium Bungalow, it definitely has to be the private Jacuzzi. Just imagine, enjoying a hydromassage session while reconnecting with each other. What a perfect hideaway for a romantic getaway without distractions!
Now, if you feel like giving an upgrade to your romantic vacations, we suggest you stay in a beautiful villa. This is a category that has two rooms; the king villa and the queen villa, both ideal to surprise your loved one and full of charming spaces.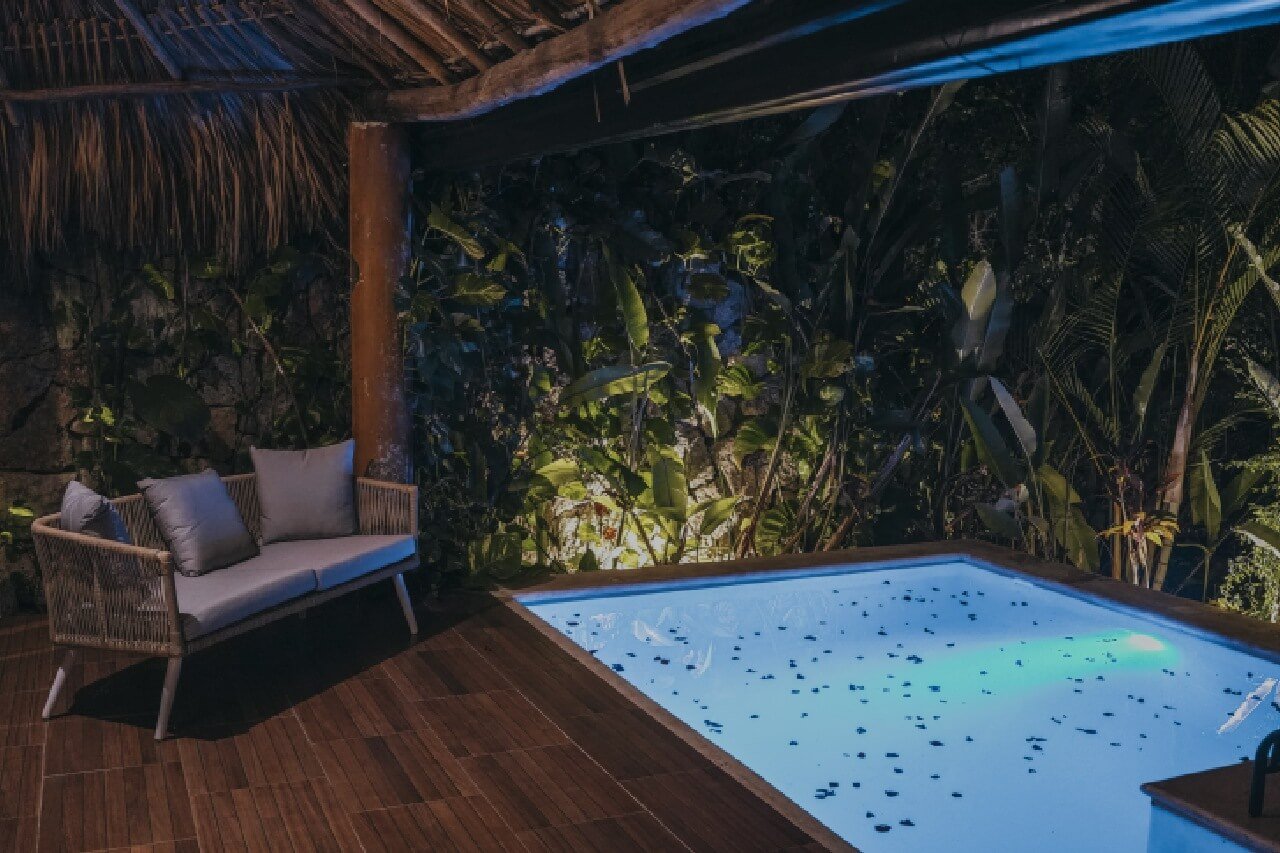 Here you can relax on a private terrace with lounge area and breakfast table, dive into the private pool with cenote water, or recharge your batteries in the lounge chairs while enjoying a captivating view of the Mayan jungle.
And the rooms are just as impressive! They feature rain showers and a view of the sac-bé, traditional decorative elements of the region and comfortable beds for your rest, with two queen size beds in the queen villa and a king-size bed in the king villa.
3. Romantic experiences you can live from Aldea Cobá
While staying at Aldea Cobá, a Romantic Boutique Hotel, you will have at your fingertips incredible experiences for two that will be the perfect complement to make your trip unforgettable, as Cobá is full of surprises.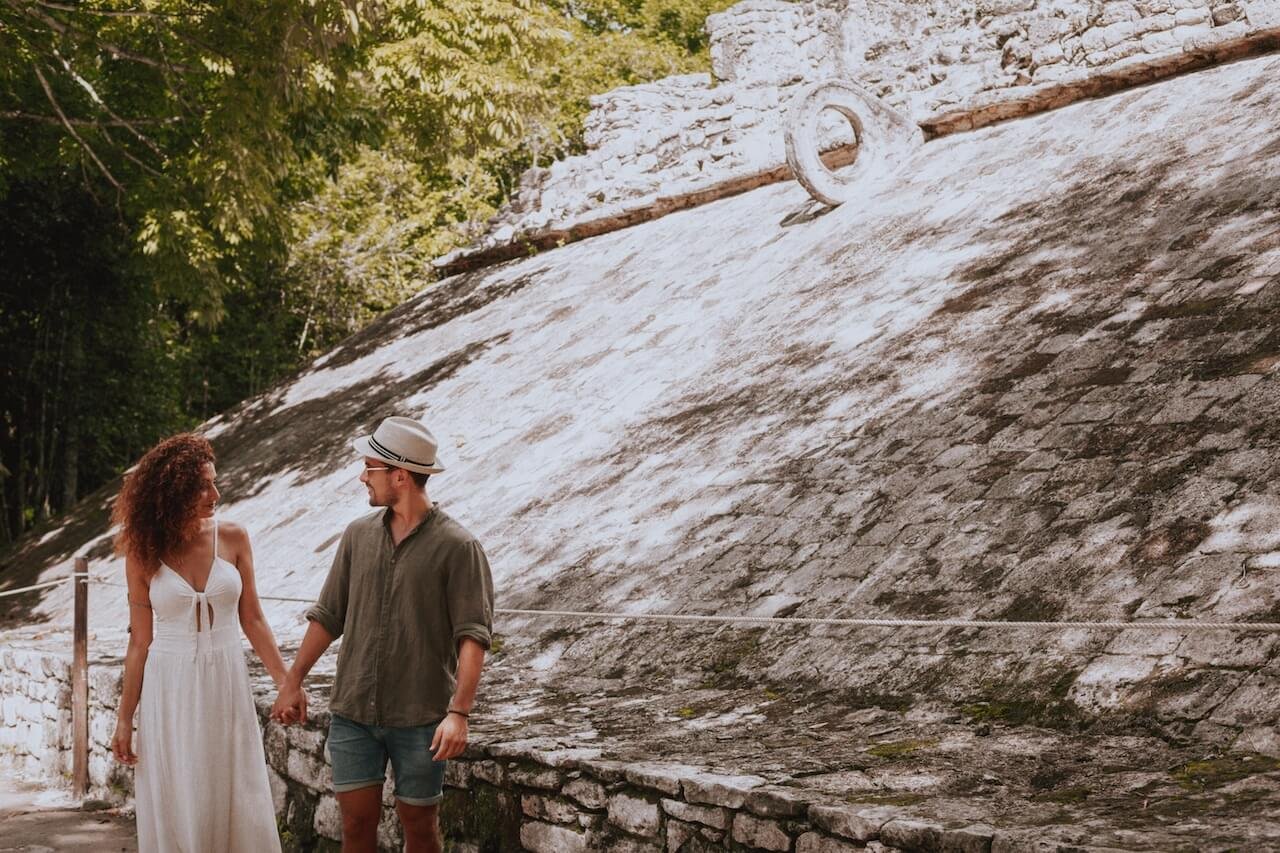 For example, if you and your partner love to discover new places together, then the best thing you can do is to visit the archaeological site of Coba or take a tour of its mystical cenotes, both breathtaking landscapes!
On the other hand, if you want to enjoy romantic experiences without having to leave the hotel or connect with the culture of the region, wellness experiences are what you need. From Aldea Coba you can enjoy therapeutic massages and yoga sessions, learn about the Mayan temazcal and even receive a Mayan blessing from an expert shaman.
And these are just a few options, if you want to find out what activities best suit you and your partner's travel style, don't forget to check out the following activities to do in Cobá.
How to start planning your romantic getaway?
As you may have noticed, staying in a magical Bungalow or a charming villa is a one-of-a-kind experience that will have your five senses delighted, the first thing you will see in the morning being a beautiful sunrise, accompanied by birdsong and impeccable serenity.
You can also delight your palate and your sense of smell with the exquisite flavors and aromas of the ancestral Mayan cuisine of Pischán, a gourmet restaurant inside the hotel, one more place that will keep you in love! So, in order not to miss out on this experience full of romance, we recommend you reserve your favorite space in advance.
If you still don't know where to start and would like to receive personalized assistance, don't hesitate to contact us at our direct line 998 402 1130 or if you prefer through our website. 
And that's it, you and your partner can now enjoy that moment you have been waiting for so long!