Finding the perfect gift for Father's Day can be a challenge, especially if you want to celebrate in a unique and memorable way. That's why Hotel Aldea Cobá has prepared a complete adventure, for not just one, but seven days!
And although it may not be enough to express how much dad means to you, celebrating for a whole week can make this date an unforgettable event. 
So if you're looking for a unique experience that combines culture, natural beauty and exciting adventures, the town of Cobá can make them all possible, and here's how!
Ideas to celebrate Father's Day
1. Tranquil getaway experience
The best attribute you'll find in Cobá is its peaceful setting, and although it may seem far away from the rest of the world, that doesn't mean it lacks comfort. So, we suggest you stay in a place surrounded by nature but with everything Dad needs to make this adventure a pleasant one.
Bottom line, a peaceful escape to a wilderness destination is an excellent Father's Day gift, as it will not only help them create precious memories, but also give them a much-needed break from the hectic day-to-day.
2. Culinary journey in the Maya world
To continue enjoying Father's Day, a great option is to dedicate an entire day to explore the best restaurants in Cobá and delve into the exquisite flavors of Mayan gastronomy.
Which  offers a great culinary experience that will give dad the opportunity to learn about the culture. To have a delicious and memorable celebration, we recommend you try the most iconic dishes of the region, such as sopa de lima.
But don't stop there, try a refreshing craft beer, signature drinks and regional cocktails together – we're sure you'll all enjoy it!
3. Guided tour around the ruins of Cobá
Something you definitely can't miss on your trip to Cobá is a guided visit to the archaeological zone of the town, not for nothing is it a world-famous tourist destination, so add it to your itinerary on your third day!
Here you will not only find fascinating Mayan vestiges, but also unforgettable experiences in the middle of the jungle. As in addition to learning about the culture from an expert, you will be able to tour the site at your own pace on a Mayan bicycle or tricycle.
Believe us, this will be an incredible adventure that will make your Father's Day even more exciting!
4. Tour the mystical cenotes
After a hot tour in the ruins of Cobá, you can continue celebrating Father's Day by visiting one of the many cenotes that surround the town. A 10 to 15 minutes drive will get you to Coba's most beautiful cenotes.
Here you can swim, snorkel or dive in its deep blue waters, some even have zip lines or platforms to jump from great heights. So if you want to give dad a day full of adrenaline, this is the ideal option.
Of course, to explore more than one you will have to set aside a full day, especially because the area is full of these natural beauties. If you can't choose which one to visit, here we leave you the best cenotes in the area.
We can't ignore the fact that Coba is home to a vibrant Mayan community, so one of the best activities you can do to create unforgettable memories is to surprise dad with a Mayan ceremony. What do we mean by this?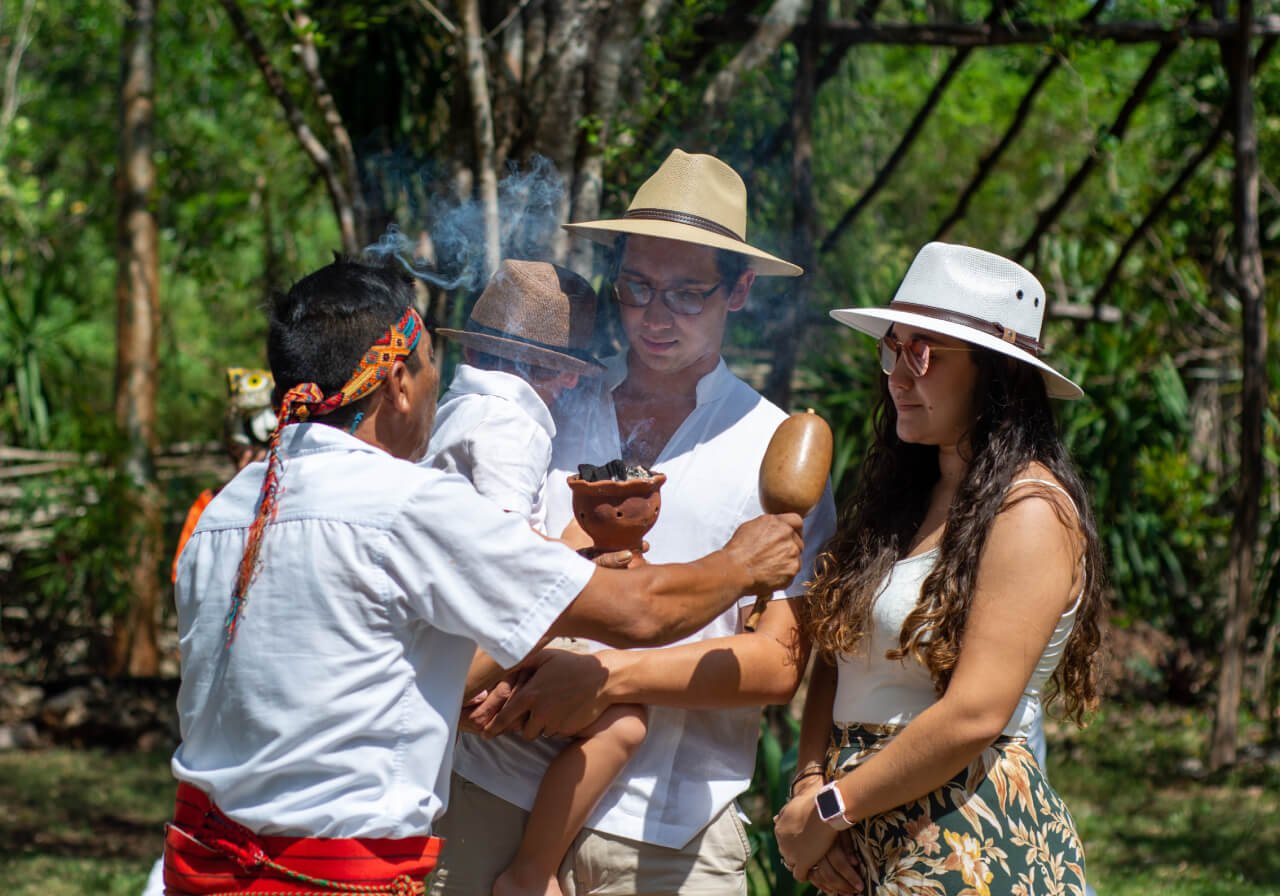 Take this opportunity to get more involved in the traditions of the village; dare to be part of a Mayan blessing, purify yourselves in a temazcal, walk the trails of Sacab Mucuy and meet a real Mayan Shaman.
This will allow you to relax, rest and connect with your spiritual side. So get ready to live an exciting and unique experience.
Once you have enjoyed cultural encounters and relaxing experiences, you can add a different touch to your trip by going on an adventure in the Mayan jungle, and for that, Punta Laguna is the perfect place.
As it is not only home to a great variety of flora and fauna, such as spider monkeys, howler monkeys and jaguars. It also gives you the opportunity to swim in its impressive lagoon, practice kayaking and jump from a 30-meter-high zip line.
However, to get to the lagoon you will have to cross through the dense Mayan jungle, so wear comfortable clothes.
Finally, to close the Father's Day celebration on a high note, we suggest you have a "family party". Whether you want to rent a venue, or reserve a table at a restaurant, a family dinner is a great way to strengthen your bonds and create lifelong memories.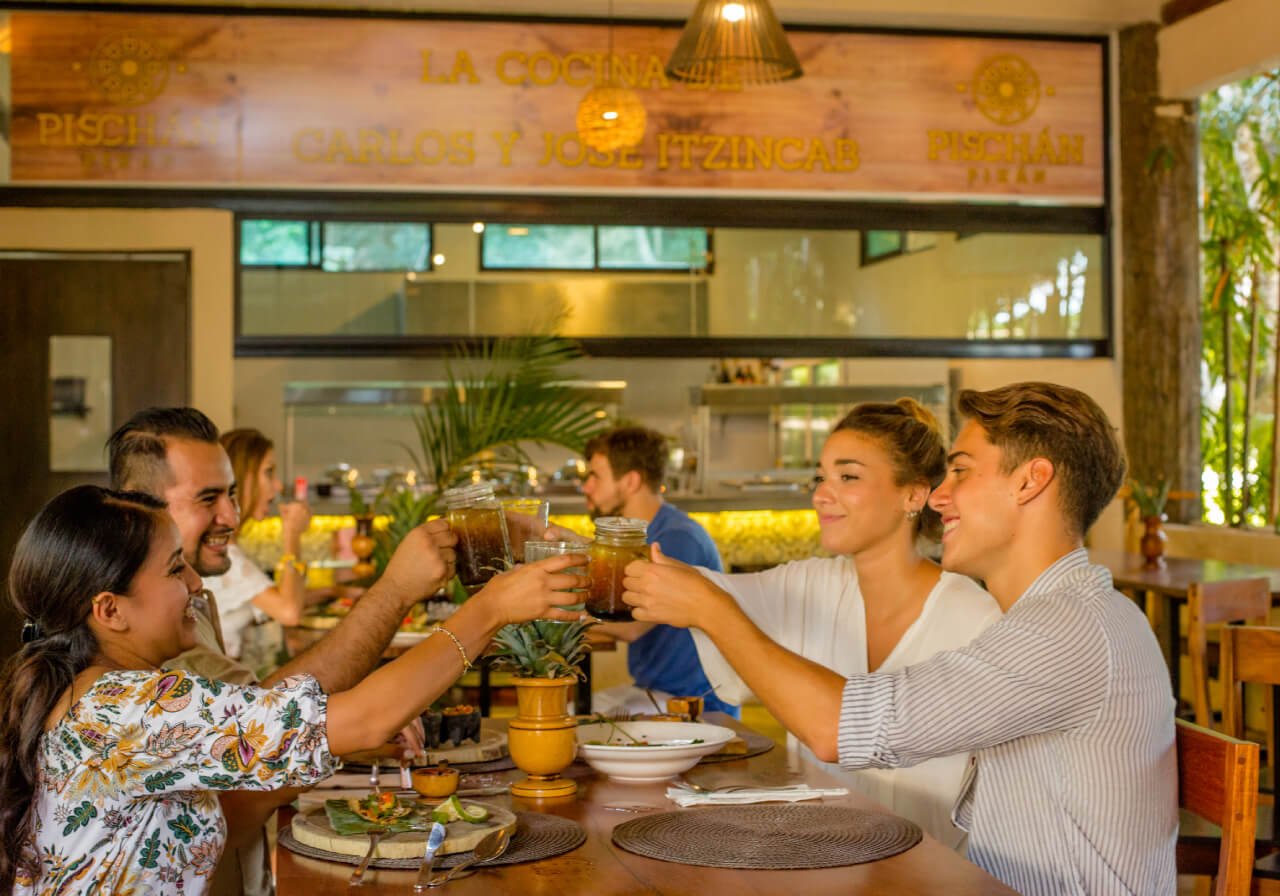 Just imagine dining under the stars, surrounded by nature or enjoying a cozy atmosphere in a traditional palapa, it will be unforgettable!
Where to celebrate the best Father's Day?
If you are looking for the perfect place to make each of these gifts a reality, you have to consider Aldea Coba, a Boutique Hotel in the Mayan Jungle, as it offers its guests a complete experience.
Putting at your reach Bungalows and Villas in the middle of nature, experiences in the Mayan world, the best dishes of the area and even, thanks to its excellent location, the most popular travel sites. 
Come pamper dad with an authentic getaway experience he'll remember forever. Start planning a dream Father's Day by contacting our direct line 998 402 1130, or if you prefer, check out our website.