With the month of December approaching, many are already looking for ways to celebrate Christmas and welcome the new year, as it is without a doubt one of the most wonderful times of the year! During this season, family and friends gather to share love and joy, so it is no surprise that every year people wish to celebrate in a special way.
At Aldea Coba, Family Boutique Hotel, we know that it can be difficult for many people to find something new to do during this holiday season, so we have compiled some ideas to celebrate Christmas and New Year's differently and make both events unforgettable.
If you're ready to experience a new kind of celebration on Christmas Eve, keep reading.
El Día de Muertos en el mundo maya
1. Enjoy a special dinner
While this first option may sound simple, celebrating with a special dinner is one of the easiest ways to add a different touch to your evening. You can go from a simple family gathering at home, to a getaway with friends at a fancy restaurant where you can enjoy the unique flavors of this time of year.
And while the important thing is that you spend quality time with your loved ones, to make these holidays even more memorable we suggest you opt for places out of the ordinary. What do we mean by this? … Those destinations focused on experiences.
Since it is not the same to dine in a buffet restaurant, to say goodbye to the year in a restaurant surrounded by natural and cultural wonders, allowing you to enjoy in every bite the aromas, flavors and even colors of the season. So if you are looking for a way to celebrate Christmas and welcome another year of dreams and goals, this is one of the most accessible options.
2. Escape from the rest of the world
Whether you want to celebrate the holidays with friends, family or your partner, one of the best ways to end the year and get a change of mood is to travel; but not just to any destination, to one where you can disconnect from the stresses of everyday life. You'll find it's well worth it!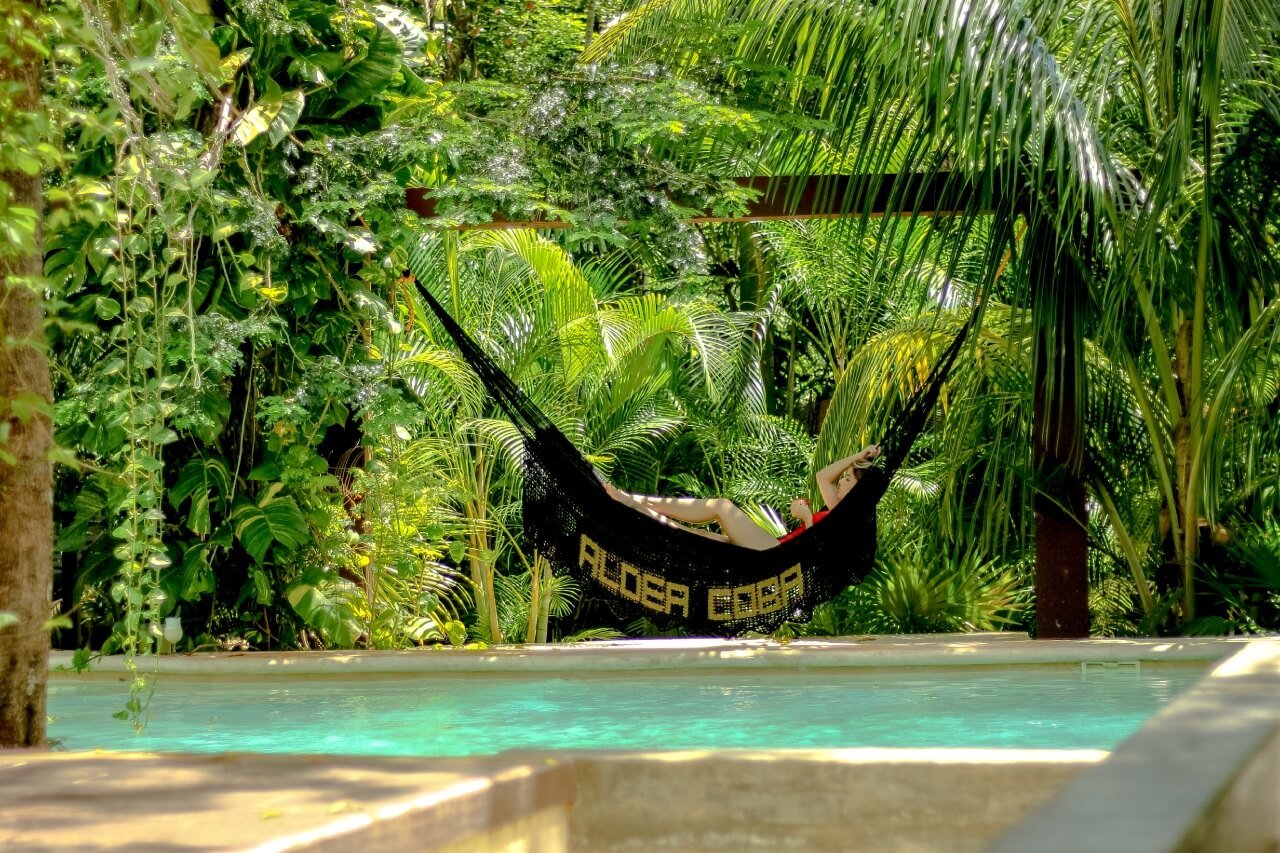 If you live in a big city, traveling away from it will give you the opportunity to discover different places without being crowded by millions of people on vacation at the same time, as well as getting to know other ways in which the locals celebrate Christmas. Now, if you want to upgrade your Christmas experience, it doesn't hurt to visit a natural gem.
Just imagine yourself under the starlight and accompanied by the sounds of the night in an intimate space for reconnecting with your loved ones, and even yourself. You won't find anything more mystical and enchanting than this kind of escape.
3. Surround yourself with luxury experiences
In case you are looking for something more glamorous, one of the best answers to how to celebrate Christmas or New Year's Eve is to surround yourself with luxurious experiences. Which we know are not always accessible during the vacations, and that is why it is the perfect activity for those who want to give themselves a special gift.
Whether you choose a 5-star hotel or a chic boutique, if you're lucky enough to have extra cash, why not treat yourself to a vacation or an exotic trip somewhere new. This way, you can relax for a couple of days and guarantee a refreshed start to the new year.
During this trip enjoy exclusive experiences such as spa treatments, wine tasting, private spaces and the exquisite flavors of gourmet restaurants. With this harmonious combination of tranquility and modern comforts, you will be able to concentrate on what really matters: enjoying the company of your family and friends.
4. Explore the mystical cenotes
If you want to experience Christmas like never before, and you are a lover of cultural adventures, visiting some of the most incredible cenotes in the Yucatán Peninsula is an excellent idea, especially if you live in a place with high temperatures. Here you can appreciate the beautiful view and have a magical and historical experience at the same time.
In addition, it is an environment that both adults and children can enjoy, since its crystal clear waters and fresh environment are not its only charm; there are many activities you can do while visiting them such as snorkeling, swimming, and in some of them, even diving.
And to make your adventure even more extraordinary, when exploring these natural treasures we suggest you stop at more than one, because not all cenotes are the same, each one delights you in its own way! If you want to know the best route in Yucatán click here.
5. Relax your body and mind
On the other hand, if you plan to celebrate Christmas Eve alone or as a couple, a great way to get out of the ordinary is by doing recreational activities, also known as wellness experiences.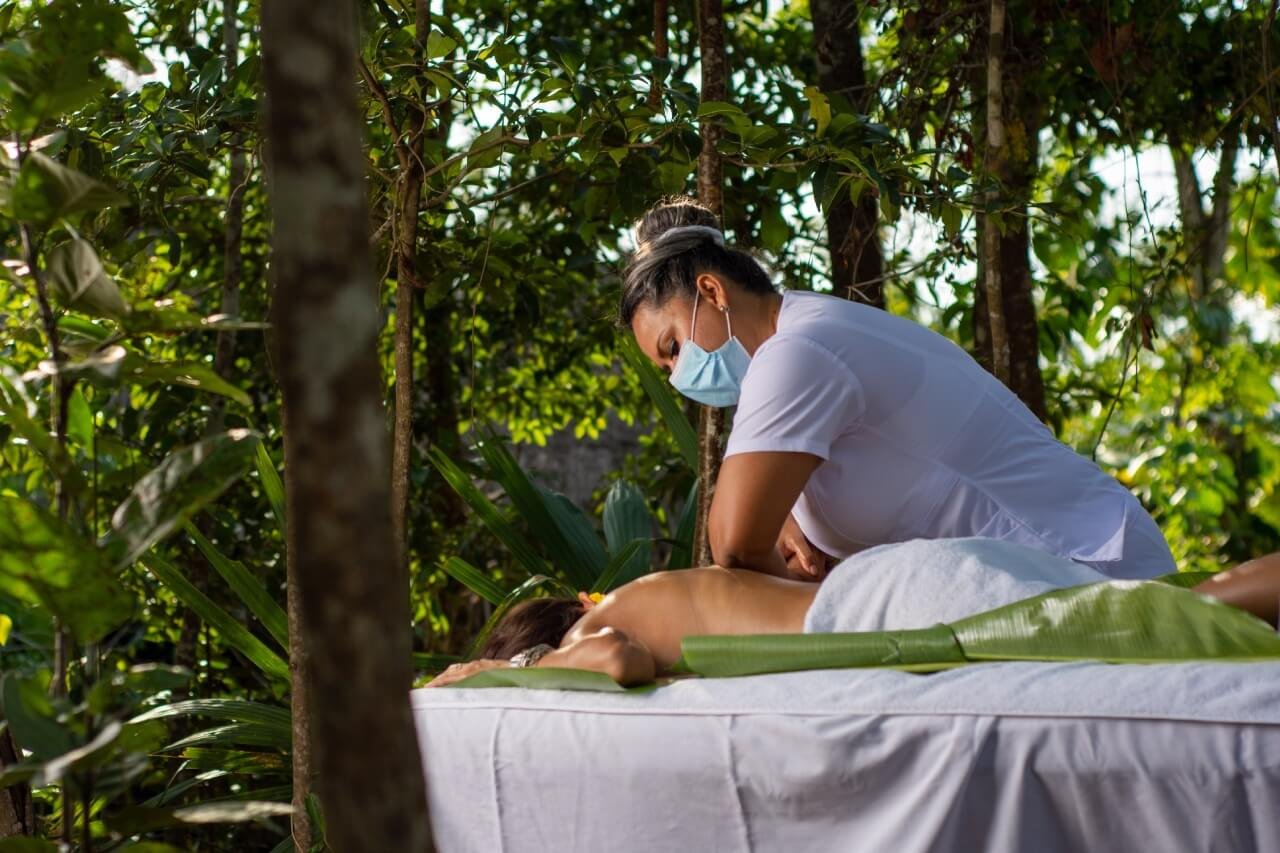 If you've never done it before, it's time to take care of your health by doing yoga or practicing meditation, receiving therapeutic massages, steam sessions or other wellness activities. When you finish, you will see that you will not only feel better physically, but also mentally and emotionally.
It's also a great way to relax, unwind and de-stress after all the hustle and bustle of the holidays!
Finally, if you are not into enclosed spaces, but you have loved the idea of celebrating Christmas submerged in magical and refreshing waters, you can always visit the beaches of Tulum and Cancun; both destinations recognized worldwide for their beautiful coasts and fine white sand.
This type of escape will allow you to get away from the hustle of everyday life and enjoy a tranquil atmosphere. And the best part, is that it offers something for everyone, even for those who don't like the ocean, as there are also excellent restaurants and bars nearby where you can enjoy a meal before heading home or continuing the party among friends.
As you know, going to the beach during the vacations is always fun because it gives you the opportunity to disconnect from everything and relax while enjoying the sun and the sea breeze. But during these special dates it's even better.
7. Where to celebrate Christmas and New Year's Eve?
Now that you have discovered new and incredible ideas to escape from the same old New Year's Eve plans, the only thing left is to decide which one best suits your interests. But if after reading this, you are still hesitating between one or the other, don't worry because visiting Aldea Cobá, Family Boutique Hotel you will be able to enjoy them all.
Being located in the heart of the Mayan jungle, you will be surrounded not only by beautiful nature, but you will also be able to enjoy all the privacy you need. The experiences in its luxurious rooms and gourmet restaurant will make celebrating with family and friends a memorable event.
Within our facilities, in addition to enjoying an exquisite New Year's Eve dinner, with reservation, you can also enjoy recreational activities, so you can be renewed, such as private yoga classes and therapeutic massages.
On the other hand, outside this glamorous boutique hotel you will find three spectacular cenotes full of the mysticism of the Mayan city of Coba and if that wasn't enough, being located a few hours away from Tulum and Cancun, exploring its beaches won't be a problem either.
So if you are looking for a 180-degree turn to celebrate Christmas and New Year's Eve, then there is no better destination than Aldea Coba. To make sure you don't miss out on an unforgettable holiday season, you can take advantage of special Christmas promotions and receive discounts on your stay up to 30%.
If you have any questions about how to reserve your room and start your great New Year's Eve escape, do not hesitate to contact our direct line 998 402 1130 to receive personalized attention. Or if you prefer to consult through our website.