One of the best experiences you can have during your summer vacation is to stay in one of the wonderful villas in Coba, a picturesque city located in the heart of the Yucatán Peninsula, well known for its culture.
But also for bringing together the best of the lush Mayan jungle and tropical landscapes in one place, making it a hidden gem worth exploring!
And to do so, there is no better starting point than Aldea Cobá, an Escape Boutique Experience, a hotel surrounded by lush jungles, mesmerizing cenotes and stunning beaches nearby. Here we tell you all about this experience.
Fascinating reasons to visit Aldea Coba
1. The best villas in Coba and Tulum
No matter if you are traveling to Coba, Tulum or its surroundings, one of the best ways to enjoy your getaway in the Yucatán Peninsula is staying at Aldea Coba, as it has a strategic location that puts at your fingertips a wide range of experiences. 
And most importantly, charming accommodations, having available from Bungalows, to premium rooms such as villas with private pools and cabins with outdoor jacuzzi, all incredible in their own way!
But that's not the best part, in addition to their beautiful villas, all of their rooms feature private corridors and traditional details. From the materials impregnated on the walls, to the hand-embroidered bedding.
Where are the villas of Aldea Coba?
This fantastic hotel is located at the entrance of Coba and is near the famous archaeological site, located about 5 minutes from the hotel. It is also 40 minutes away from Tulum and is at a point where the Riviera Maya or Chichen Itza are no more than 110 km apart.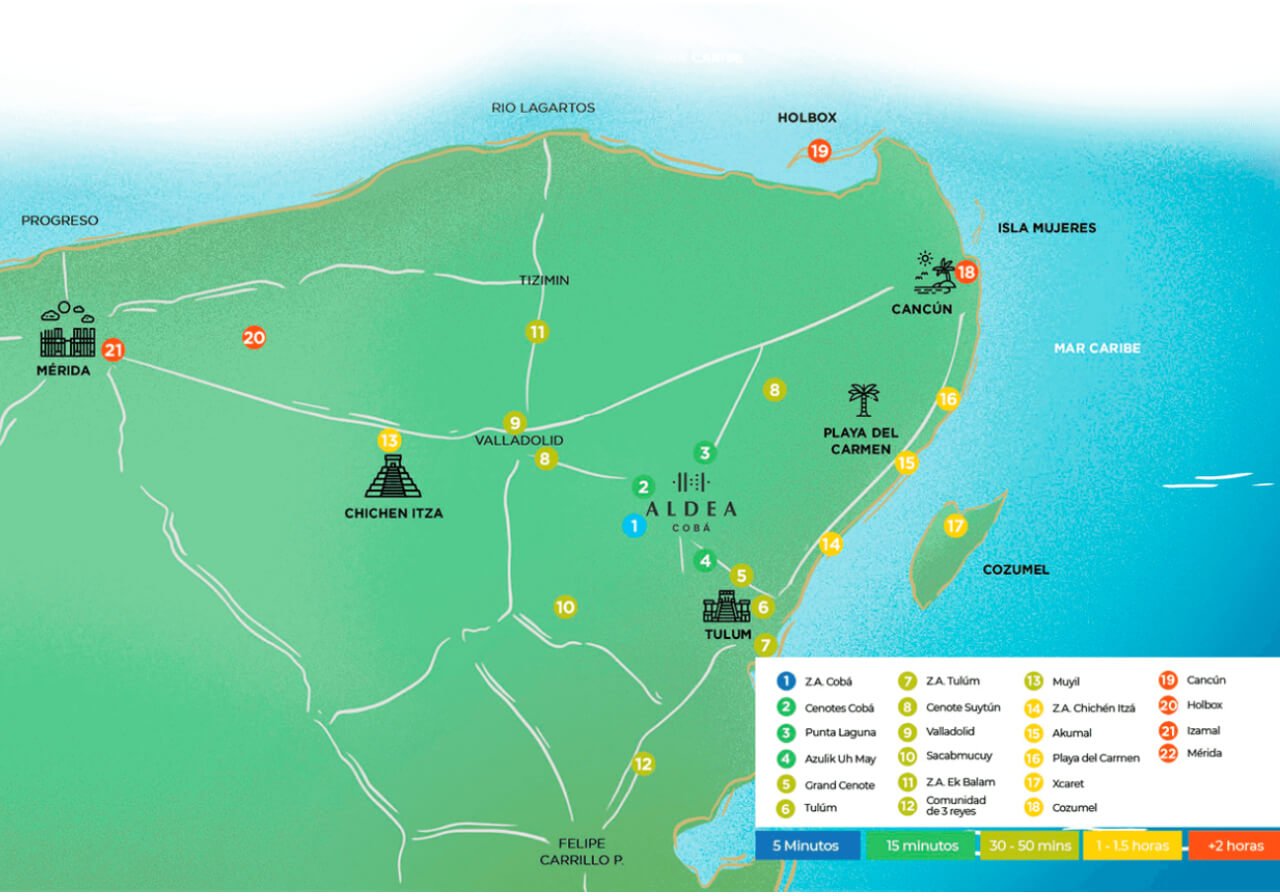 2. Mayan jungle experiences
For nature enthusiasts, these villas in Coba are a dream come true. Especially because the jungle experiences start from the moment you set foot in the hotel, as its corridors are surrounded by vast vegetation. 
But the best part is that in addition to its harmonious blend of luxury and serenity, with open-air designs, private pools and impeccable amenities, you can find more adventures just a few steps away by visiting the spider monkey reserve, biking through its ruins, birdwatching and exploring Punta Laguna.
So if you're looking for great outdoor experiences, this is the place to be!
3. Adventures in majestic cenotes
Cenotes are one of the unique treasures of the Yucatán Peninsula that you definitely can't miss and lucky for you Aldea Coba has some of the best ones nearby, located just 10 to 15 minutes away.
Giving you the opportunity to visit the three famous cenotes of Coba and the most popular ones around it, such as the Car Wash and Zacil Ha. Believe us, opting for a villa in Coba near these natural jewels will allow you to experience first-hand the wonders of the Yucatán.
And what's even better is that you can get your tickets for this experience right here!
4. Escape to tropical beaches
If you are in the mood for a seaside break, then don't worry, because one of the perks of staying at Aldea Coba is that it is less than an hour away from Tulum. One of the most popular magical towns in the Mexican Caribbean for its white sand beaches.
So if after exploring the ruins of Coba and diving into its cenotes you want to have a tropical escape, a great option is to head to Tulum's favorite coasts. For example, Playa Paraiso, Playa Akumal and Playa Pescadores.
We are sure that exploring the culture of Coba and relaxing on its nearby beaches will be an unforgettable summer experience.
5. How to plan your summer getaway?
As you can see, these fabulous villas in Coba are the perfect place to spend your summer vacations, as they not only give you the opportunity to enjoy great attractions in the Mayan world, but also surround you with nature adventures and tropical paradises.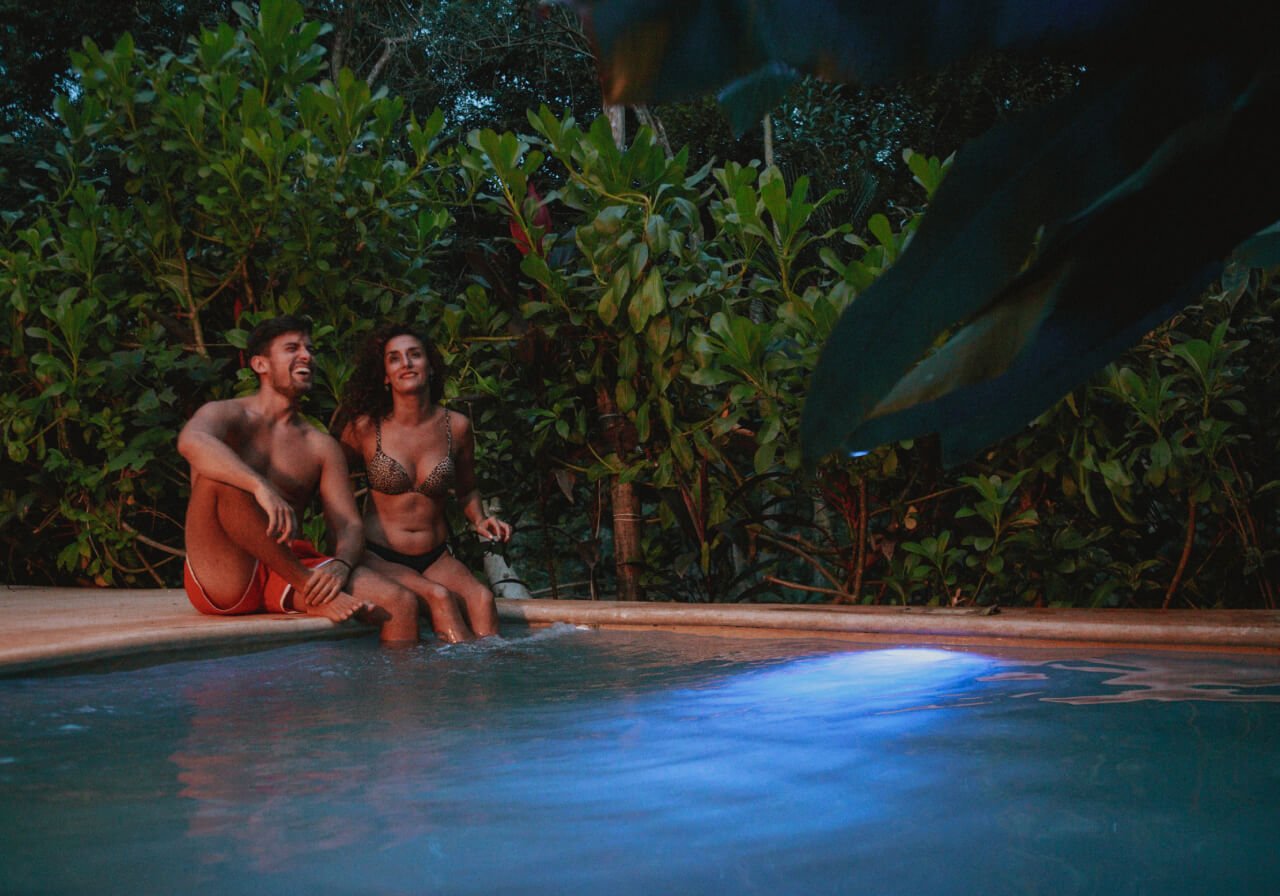 So if you are looking for a complete experience, to enjoy the perfect balance between relaxation, nature and adventure, don't think twice and solve all your doubts by contacting our direct line 998 402 1130, where an agent will provide you with personalized assistance.
Or, if you prefer, keep checking our website!